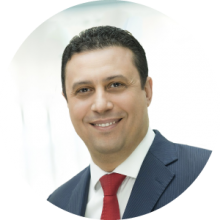 Fatah Boudjelida
Managing Partner - Operations
Fatah is the Managing Partner – Operations of ATOZ.
Fatah has been a professional in corporate law, mergers and acquisitions, private equity and investment funds, and investment companies since 1999.
Fatah assumed the role of Managing Partner of FIDEOS between June 2010 and June 2011 and was a director of Fideos Financial Services, a regulated Professionnel du Secteur Financier offering Central Administration services for Luxembourg regulated risk capital and specialised investment vehicles (supervised by the CSSF). Fatah was responsible for the performance improvement of FIDEOS before its strategic sale in June 2011.
Fatah acts as a director of several specialised investment funds supervised by the CSSF and also of non-regulated vehicles.
Fatah is qualified as a Chartered Accountant in Luxembourg ("Expert Comptable"). He has a post-graduate degree in Company Law and Administration from the University of Strasbourg (France). He also has a Master's degree in Business Law and General Law.
He speaks English and French.
View all our people